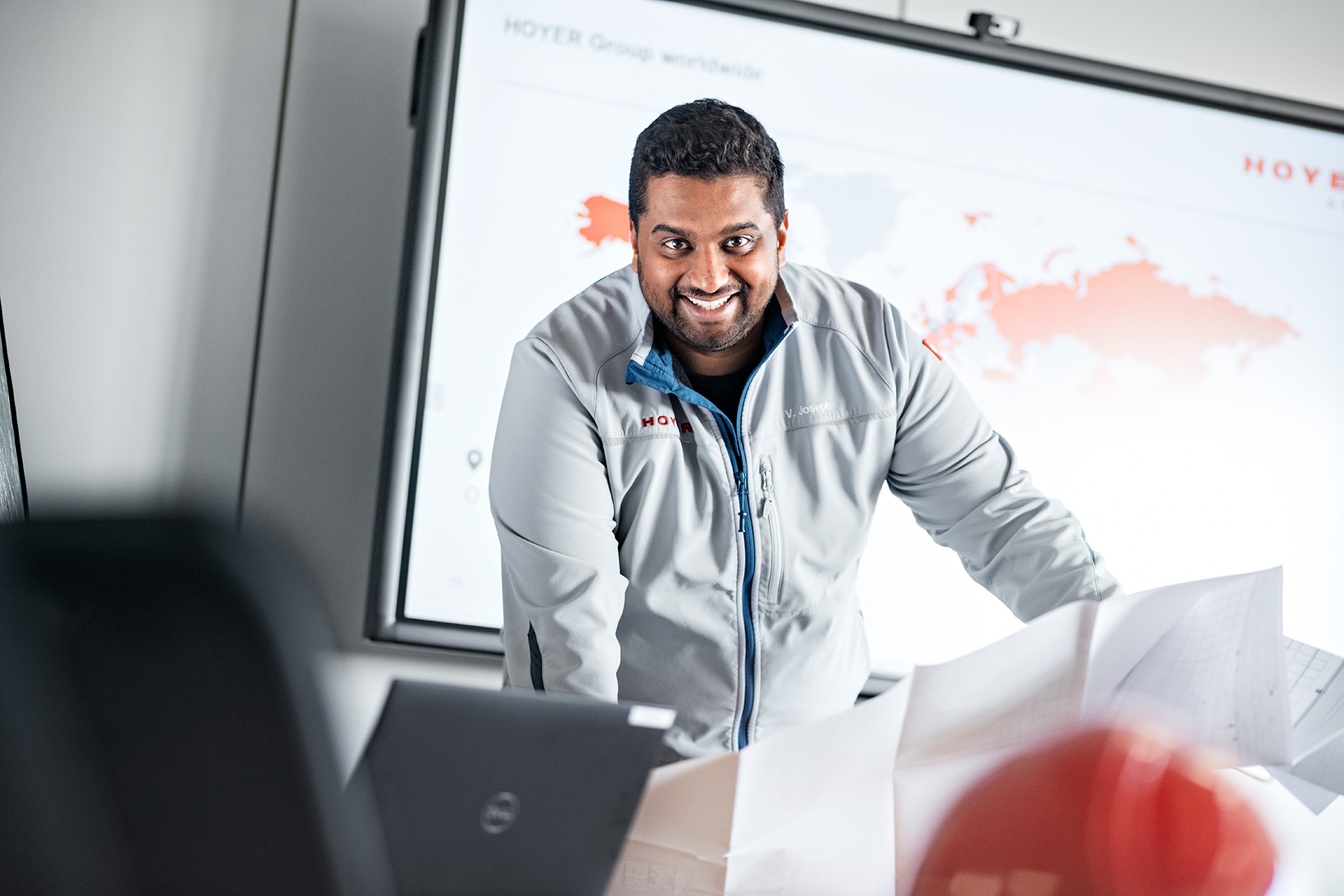 With value added services HOYER is the chemical industry's strong partner. Would you like to expand and/or optimise your on-site or off-site logistics processes? In close collaboration with our customers, we develop innovative concepts, entire logistics processes and tailor-made solutions for every logistics challenge.
OUR CONTRIBUTION TO YOUR SUCCESS
With our highly qualified staff, specialist know-how and a high level of safety, security and quality awareness, we are a powerful added value in the chemicals logistics value-creation chain. Our services include:
On-site logistics

Filling and blending true to formula

Contract warehousing

Operating intermodal transport terminals

Storage of dangerous goods in tank containers

Handling and storage of plastics

Project development

Integrated logistics solutions
In addition, HOYER operates its own logistics sites in Europe and in the Middle East. We are the only logistics services provider in the chemical industry that offers all its services as full ranges, and packages them to create synergies from which our customers benefit. We do this by providing a needs-oriented logistics infrastructure. We offer you a broad spectrum of services, efficiently designed logistics processes and individual processing and support of your requirements.
intermodal terminal operations
dangerous substance storage
ON-SITE LOGISTICS
We understand logistics to be an integrated principle along the whole length of the supply chain. As a specialist for dangerous goods and substances, we integrate ourselves seamlessly into our customers' business processes. Using our own professionally-trained workforce, we supply parts of your logistics processes at the production facility, and with our expertise we support you to optimise the quality of your on-site logistics and to design the entire supply chain more efficiently. Here is an overview of our services:
Individual operating concepts on site, worldwide

The know-how of a professional, regularly trained workforce

Seamless integration of our know-how into the plant's logistics process

Making use of synergies

Optimising processes and increasing efficiency

Transparency of procedures and costs
FILLING AND BLENDING
The secret is in the blending: the accurately formulated blending of substances is the factor that decides a product's quality and safety. We fill in our own fully and semi-automated filling plants; HOYER undertakes precise blending of the raw materials of almost every liquid chemical product in standardised or individually-developed blending plants. We can also provide filling as a standalone service. On request, our wide portfolio also enables us to load substances at the production site and to transport and distribute them. Here is an overview of the services we provide.
Comprehensive expert knowledge about chemical products

A distinctive safety and security culture

Regular training

Inspection of safety and security standards

Outsourcing of services in state-of-the-art filling plants

Integrated provision of services to reduce handling risks
CONTRACT WAREHOUSING
Outsourcing in the best hands. We construct and operate modern storage facilities for dangerous goods and non-hazardous substances. Plant designs are tailored to customers' needs and product requirements. You can be sure of our expert knowledge through joint project development. Here is an overview of the services we provide:
Expert knowledge in project development and plant design

The highest standards of safety and security in plant design and operation

A flexible warehouse management system with connectivity to customer's software

Safe sampling and sample dispatch

Order-picking and labelling

Professional cargo securing
INTERMODAL TERMINAL OPERATIONS
HOYER stands for internationally networked logistics. That is why we continuously invest to expand our intermodal terminal operations, and constantly enlarge our European network. In addition to our own sites in Germany, we participate in several intermodal terminals in Europe, thus moving logistics forward. Here is an overview of our services:
Low turnaround times

Modern IT systems for efficient processing

Large-area transhipment installations

Goods flow flexibility

On-site repair opportunities

Securing the cooling and heating chain
DANGEROUS SUBSTANCE STORAGE
Dangerous substances are the supreme discipline in logistics. With us to help you, your industry sector has an expert for the handling, transport and proper storage of chemical products. We have at our disposal modern terminals in which dangerous goods can be turned around, stored and managed safely and securely. With innovative storage and turnaround concepts, your products are retrievable and available at all times. Here is an overview of our services:
The highest safety standards in terminal design and handling

Use of modern warehouse management systems

Additional services such as weighing, cleaning and maintenance from a single source
HANDLING AND STORAGE OF PLASTICS
In addition to our expertise in handling liquid goods, we also support customers in relation to plastics logistics. We prepare individually customised concepts for silo plants, including bulk loading, filling into various containers, storage, dispatch processing and load securing, together with maintenance and repair. Here is an overview of our services:
Handling by logistics specialists

Well thought-out operating concepts

Constant availability

Efficient dispatch processing during loading and unloading

Integrated cost overview
PROJECT DEVELOPMENT
We help projects on their way. Whether it is process optimisation of the production chain or the green light for a new site. We develop and plan logistics activities for you worldwide, including the associated assets and processes. We also obtain the permits needed to support you in ongoing operations. Here is an overview of our services:
Tailor-made logistics solutions, worldwide

Many years of experience and comprehensive competence

Introduction of specific know-how by implementing numerous projects

Reliable, system-supported cost calculations

Provision of a logistics infrastructure by our professional workforce