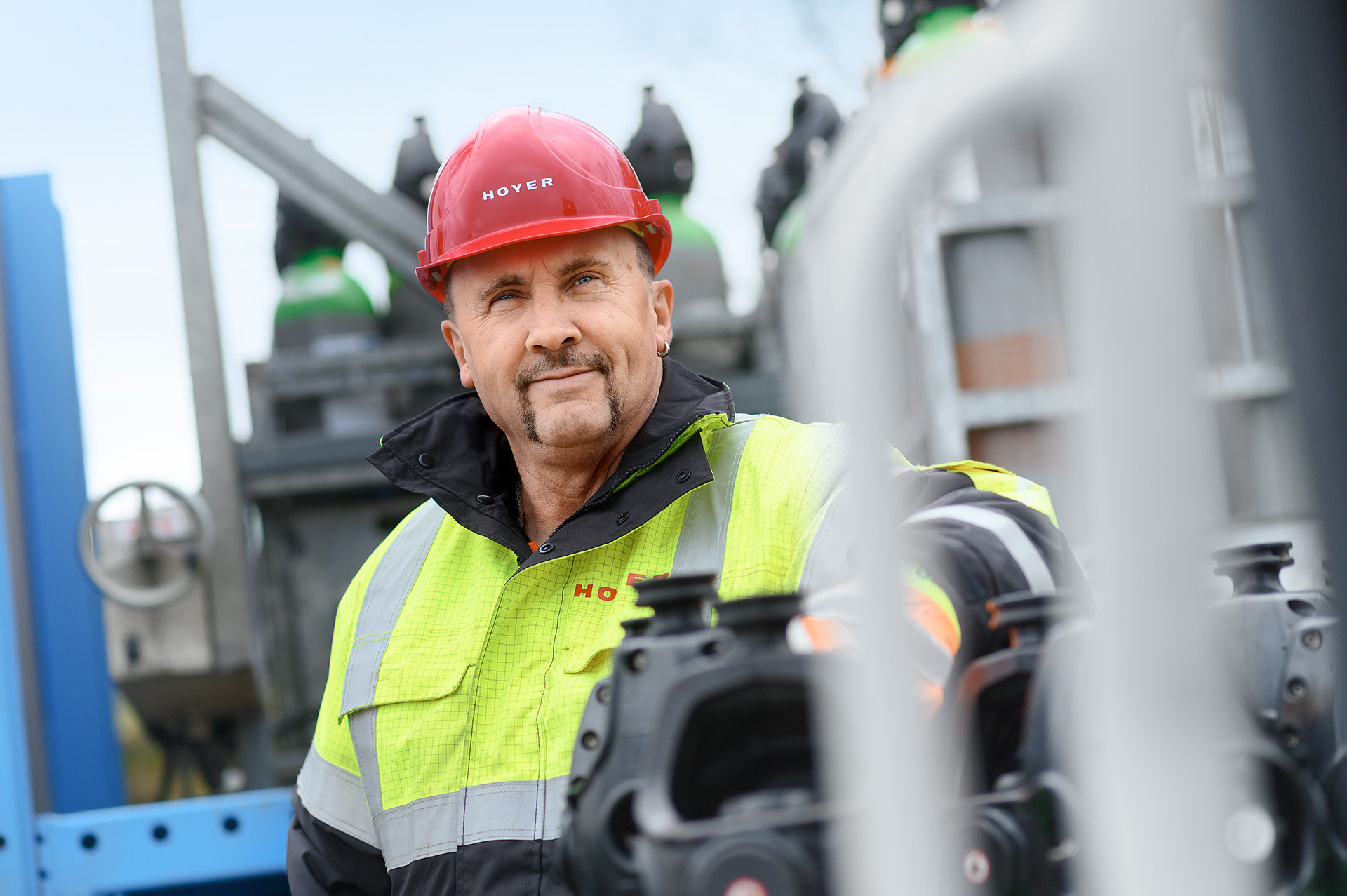 HOYER offers worldwide logistics services for industrial, chemical and special gases. These include transporting and handling compressed gases and gases liquefied under pressure and cryogenically that are used in engineering, medicine, the foodstuffs area and in transport. We transport atmospheric gases such as nitrogen, oxygen and argon, as well as other cryogenic gases – from carbon dioxide and hydrogen to helium and liquefied natural gas. We also cover the transport of gases in cylinders. Our comprehensive portfolio of services and performances is supplemented by logistics solutions for other noble and special gases.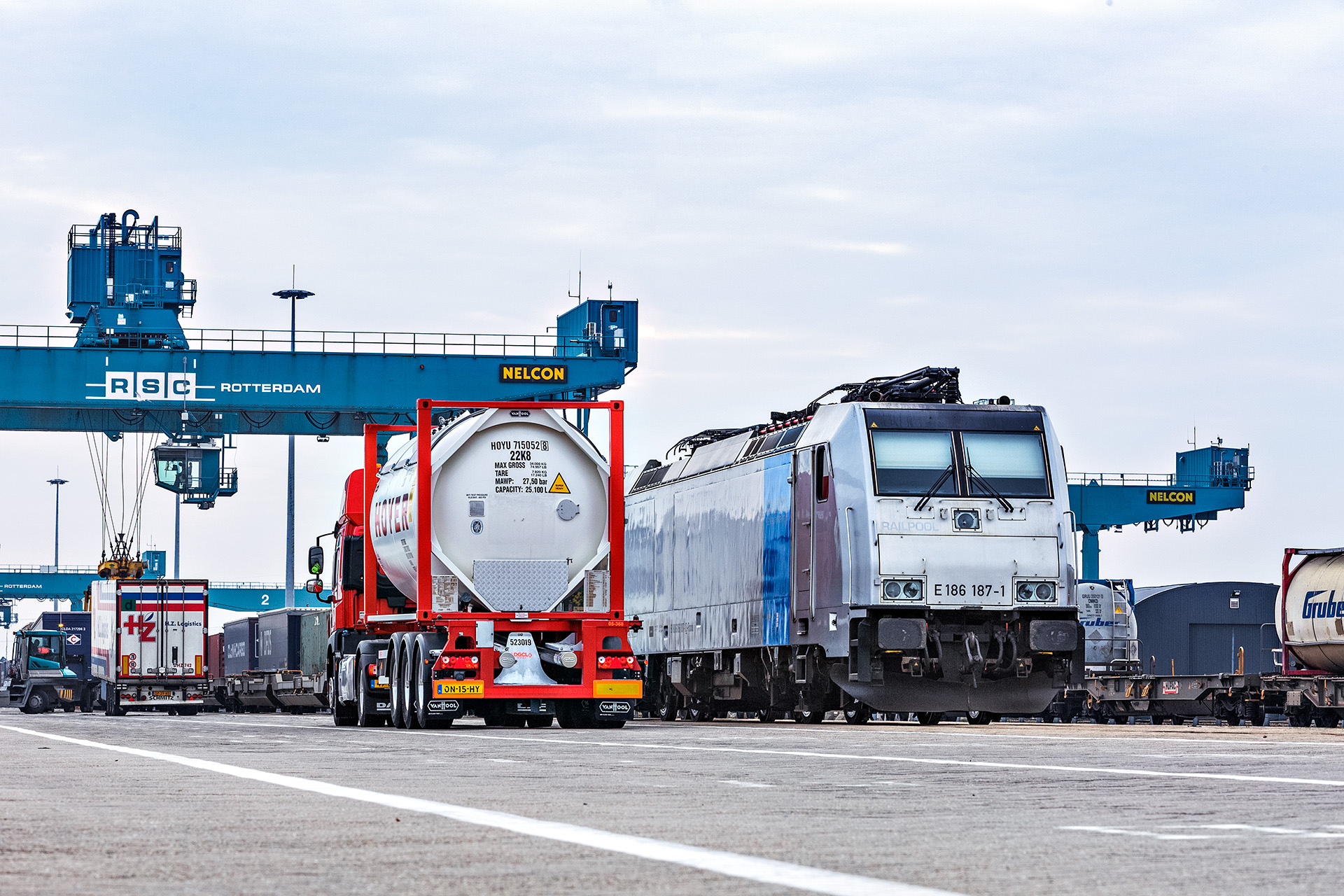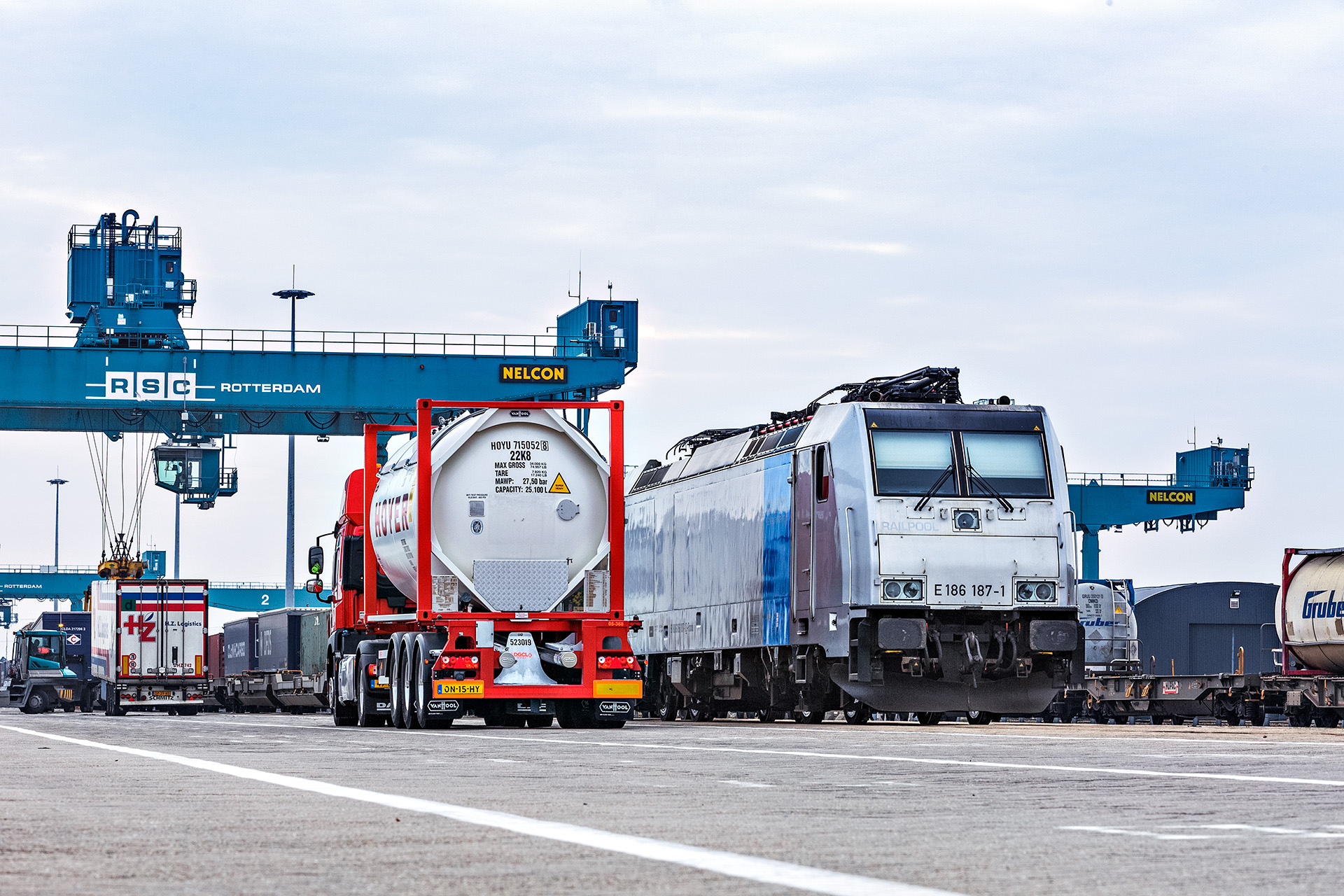 Experts for gases
In addition to a pure transport service for our customers in the gas industry, we develop needs-oriented logistics concepts tailored to exactly fit your products and the latter's requirements. Our global network of locations and partners enables us to offer all the gas logistics services from a single supplier.
We provide a large selection of modern equipment together with innovative special and ancillary equipment for national and international gas transport – this includes various tank container types and sizes for intermodal transport – as well as road tankers for European road transport. All tank containers can be rented from us on a short- or long-term basis and are available globally.
HOYER is also focusing on Smart Tank in the gas sector and is upgrading its global fleet with sensors. Intelligently networked technologies offer unbeatable added value with regard to safety, quality, transparency, economic efficiency and sustainability – at all stages in the logistics chain. And apropos value added: With a large proportion of intermodal transport movements and the shift away from road and towards rail, HOYER actively helps to reduce CO2 emissions in logistics.
more about our equipment
more about Smart Logistics
more about sustainability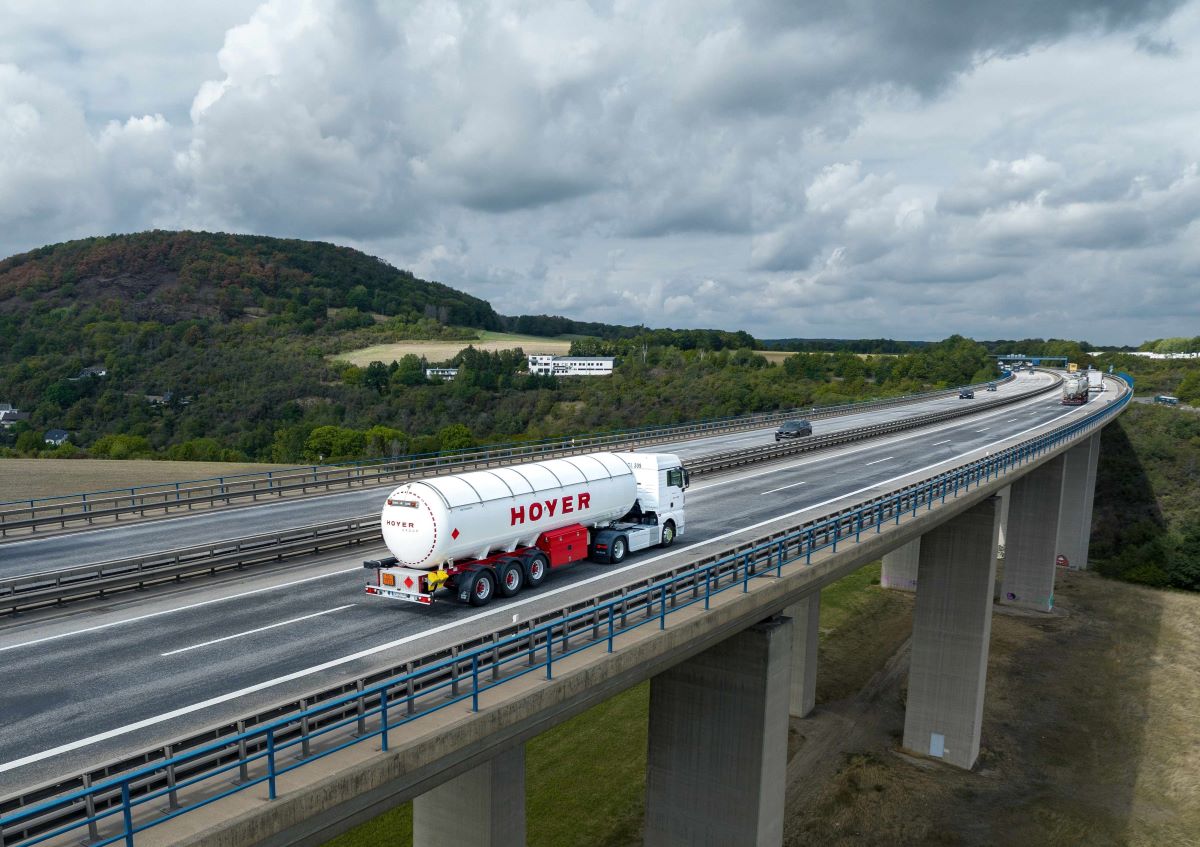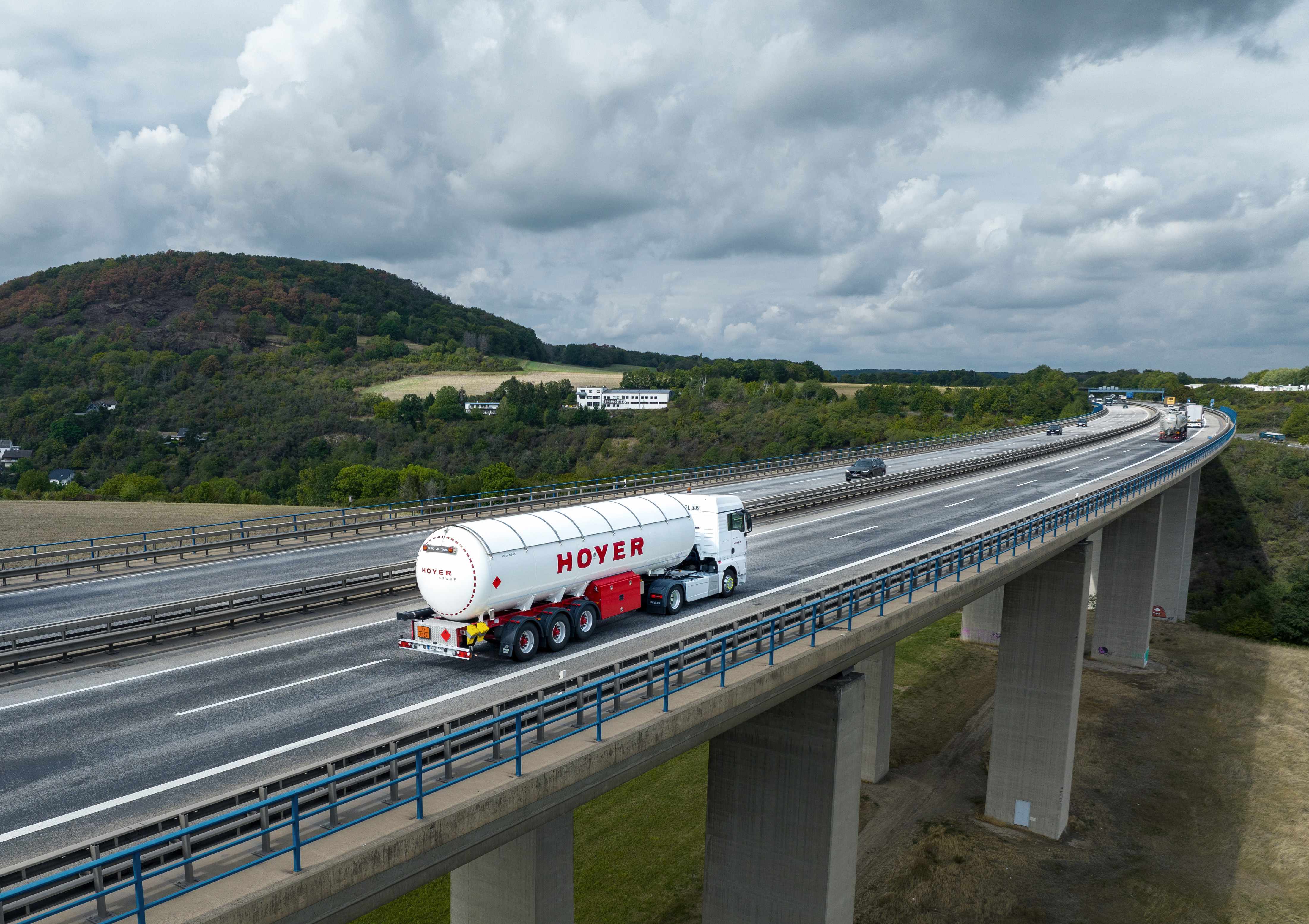 Product groups gas
As one of the leading providers and specialists in the transport of gases, we offer our customers a wide range of gas transport logistics services worldwide. In doing so, the safety and quality of the transport is always our top priority. Our expertise covers a wide range of gases, including air gases such as LIN (liquefied nitrogen), LOX (liquefied oxygen), LAR (liquefied argon) or carbon dioxide (CO2). We transport these cryogenic liquefied gases in T75 containers. Pressurised liquefied gases such as LPG (liquefied petroleum gas), methyl chloride, isobutane and ammonia are transported with our T50 tank container fleet.
We are also experts in hydrogen (H2) transport. Hydrogen is transported under pressure or cryogenically liquefied or in carrier fluids such as ammonia, methanol or other chemical compounds. Our portfolio includes helium logistics, LNG and LPG logistics.
We also support our customers' business development with our own equipment – and carry out cylinder and dry ice transports for you.
Transport
As a customer, you benefit from our decades of experience in the handling of gases. Our employees are experts in your industry. They therefore not only provide you with comprehensive and competent advice, but also develop individual, needs-oriented solutions for your gas transport in close consultation with you. We transport compressed gases as well as pressurised or cryogenic liquefied gases for you. Our employees are specially trained for the demanding transport of sensitive dangerous goods. Whether by rail, ship or road: we will find the right means of transport for your gas and can also take care of volume control for you.
Rental
Customers all over the world benefit from our global network and our large equipment portfolio. All tank containers can be rented on a short- or long-term basis and are available globally. We have the right equipment on offer for any gas (T50 and T75 containers as well as MEGC units).
Fleet management
We have a neutral fleet of various trailers and containers for gases with which we support our customers. We maintain a close exchange with the entire industry and manufacturers with regard to technical developments and provide our drivers with ongoing training. For both our own and our customers' fleets, we offer an entire fleet management service, including the monitoring and control of maintenance appointments, and work together to develop concepts for optimising fleet utilisation.
Our sustainability strategy provides for a significant reduction in CO2 emissions. To achieve this, we are also testing alternative drive systems in our vehicle fleet. Among others, CNG and LNG tractor units as well as electrically powered vehicles are in use. We are also using HVO fuel in pilot projects. In the future, hydrogen and fuel cell drives will play a major role.
Container Services
Our services include maintenance and repair of the equipment. We are also a one-stop shop for safety and periodic inspections. We even carry out modifications to special equipment in our workshops.
In our affiliated depots we take care of the storage of empty containers before or after cleaning, repair or maintenance. We also work out storage concepts with our customers for loaded containers.
Our services include:
Consulting and engineering

Maintenance and repair

Refurbishments

Carrying out statutory inspections

Depot, storage