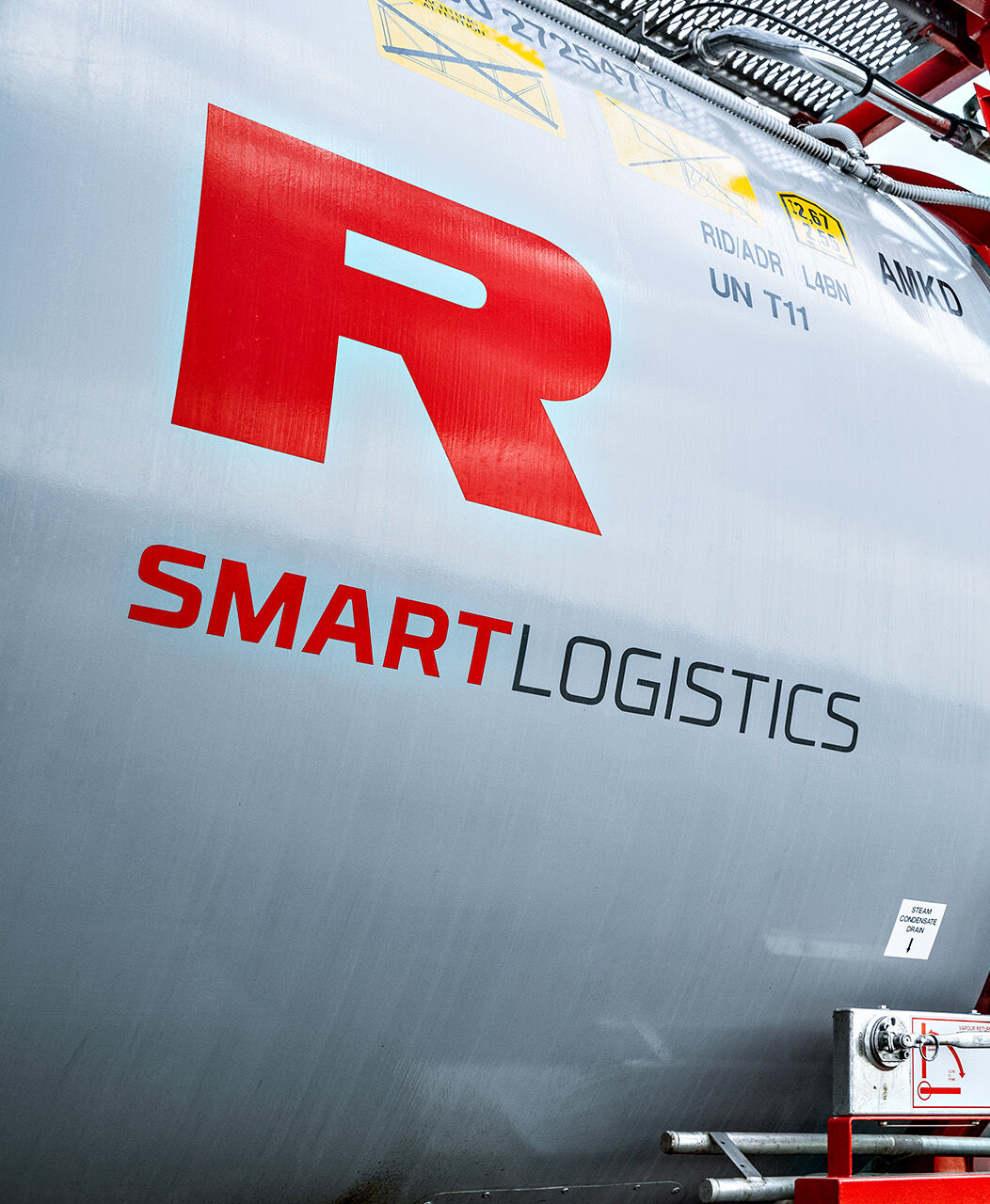 Our excellent logistics services in particular, together with our core values such as reliability and safety, are what offer powerful benefits to our customers. We constantly improve them by using digital technologies, because the digital transformation also led to massive changes in HOYER, and promoted innovations that continue to secure our market leadership in specialist logistics. We accepted the current challenges, and developed ourselves from being purely transport and handling experts to become a provider of innovative, digitally networked logistics solutions and modular services. A big step, and a successful one.
NETWORKED SOLUTIONS
HOYER has also established itself as a digitalisation pioneer in the specialist bulk logistics area, with a large amount of know-how and energy. The key to this: Smart Logistics – customer-oriented, intelligent logistics services based on digitalisation. The advantages are convincing, and bring logistics to a new level: through automation, data capture and analysis, and by collating information together, we develop new, improved services, optimise capacity utilisation and increase safety in all our activities. Smart Logistics is the future-oriented continuation of our quest for transparency, reliability, quality and safety in a dynamic market and competition. HOYER is a pioneer in the smart logistics field, something of which we are proud. Our development to become digitalisation experts and solution providers for the entire supply chain is still far from being at an end.
QUALITY OF SERVICES
Among other things, what service quality means to us is the ability to provide high transparency along the logistics chain. That is why we continuously work towards constantly supplying you with important data and information about your product. For example, this information includes the exact status of the transport movement, with a proactive report of the expected time of arrival. However, we also give important information about the condition of the load, such as its temperature and pressure. The aim is for our customers to know, at any time, where the product is located, what is its condition, and when it will arrive. And if an unforeseen delay occurs, e.g. due to a traffic jam, they should have full control and be able to intervene in the logistics process at an early stage.
HOYER works under high pressure to develop new services and solutions through predictive analyses. The possibilities are impressive, and they lead to success: in a few sectors, we already use fully-mature systems today to undertake complete, forward-looking supply coordination, and we determine needs and transport timings.
TRANSPORT SAFETY
HOYER has specialised for a long time in handling challenging, dangerous, sensitive liquid goods whose transport needs special care. We ensure safety when transporting these substances, as well as their constant faultless quality during the entire logistics process. The extensive use of modern sensor systems – among other things – is what makes this possible. Deviations from pre-defined product parameters, e.g. temperature or pressure, are reported to our customers as warning messages via our Smart Portal, which we developed ourselves, or directly digitally, and enable prompt intervention and prevent damage.
FLEET OPTIMISATION
The future of networked logistics is based on an intelligent linkage between internet-of-things technologies and transport management systems. We put the evaluation of collected key parameters centre stage, thus enabling more efficient fleet management. Weak points in the logistics chain are identified, and container and truck fleet capacity utilisation are optimised. The result: financial benefits for our customers, and resource conservation for the environment.
PROCESS EFFICIENCY
HOYER drives forward the use of digital transport documents and an electronics connection with our customers and business partners to enable continuous, real-time data exchange. We thereby support the design of an efficient delivery chain, and create simple, easy information access for all the players involved in the logistics process. We are committed to the optimum planning of individual processes to create long-term stable, permanently dependable delivery chains – the entire process should be automated as far as possible at the same time.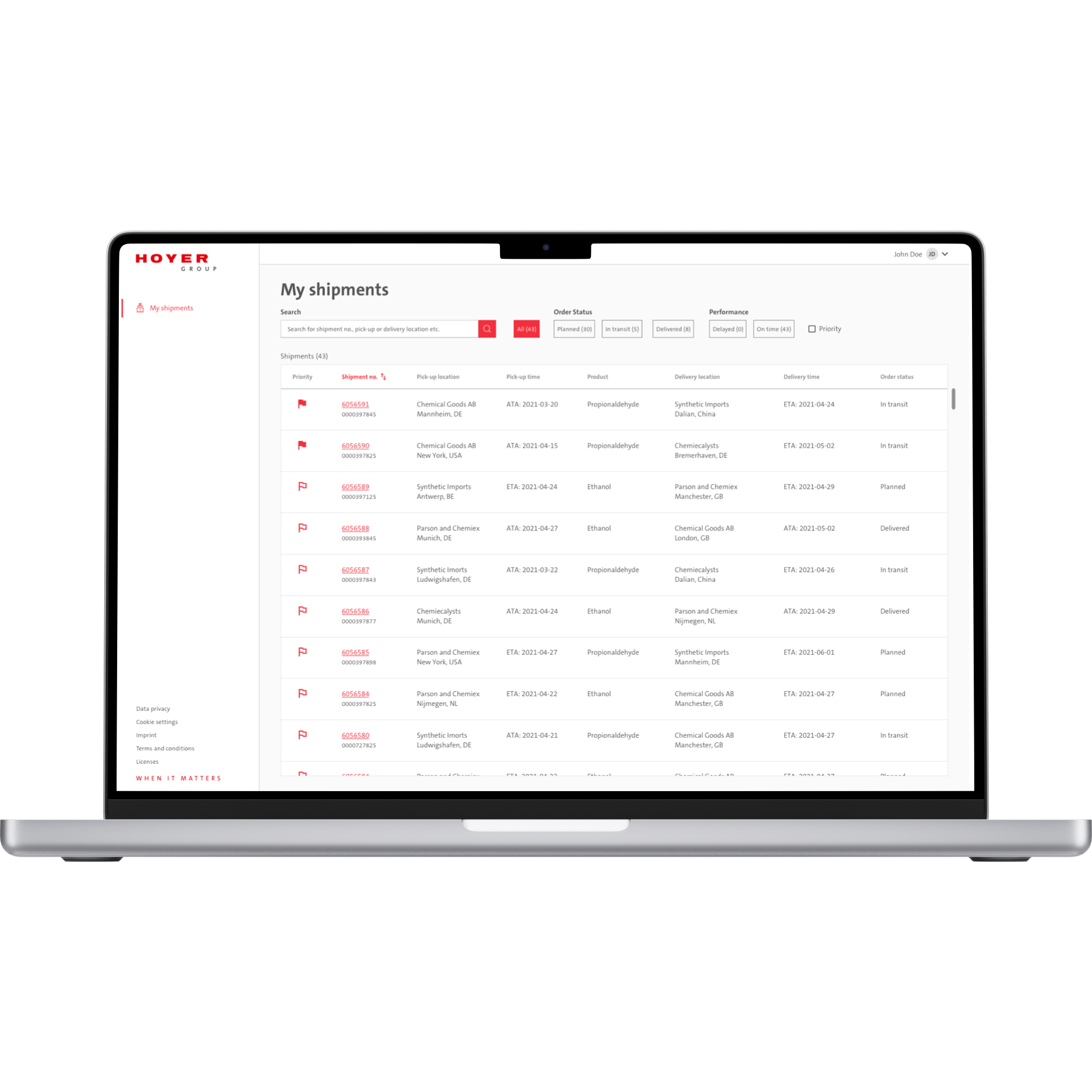 HOYER CONNECT
The HOYER Connect portal provides our customers with 24/7 real-time insight into the status of transports and orders. The portal gives them an overview of planned, ongoing and completed deliveries. By defining status messages via e-mail, users automatically receive notification about their transport. Thus we offer the greatest possible transparency during the entire logistics process. HOYER Connect currently displays chemical transports in European road and intermodal traffic, and is constantly undergoing further development. Our customers can access the portal flexibly at any time, both on a PC and with their mobile devices such as a smartphone or tablet.
Your advantages
Easy tracking




The transport overview enables transparent order status tracking.




Full transparency




By providing detailed insights into order status information, for example expected loading and unloading times, we create complete transparency in the delivery process.




24/7 flexibility




HOYER Connect enables flexible access to all important status information, at any time and anywhere. And from any mobile device.