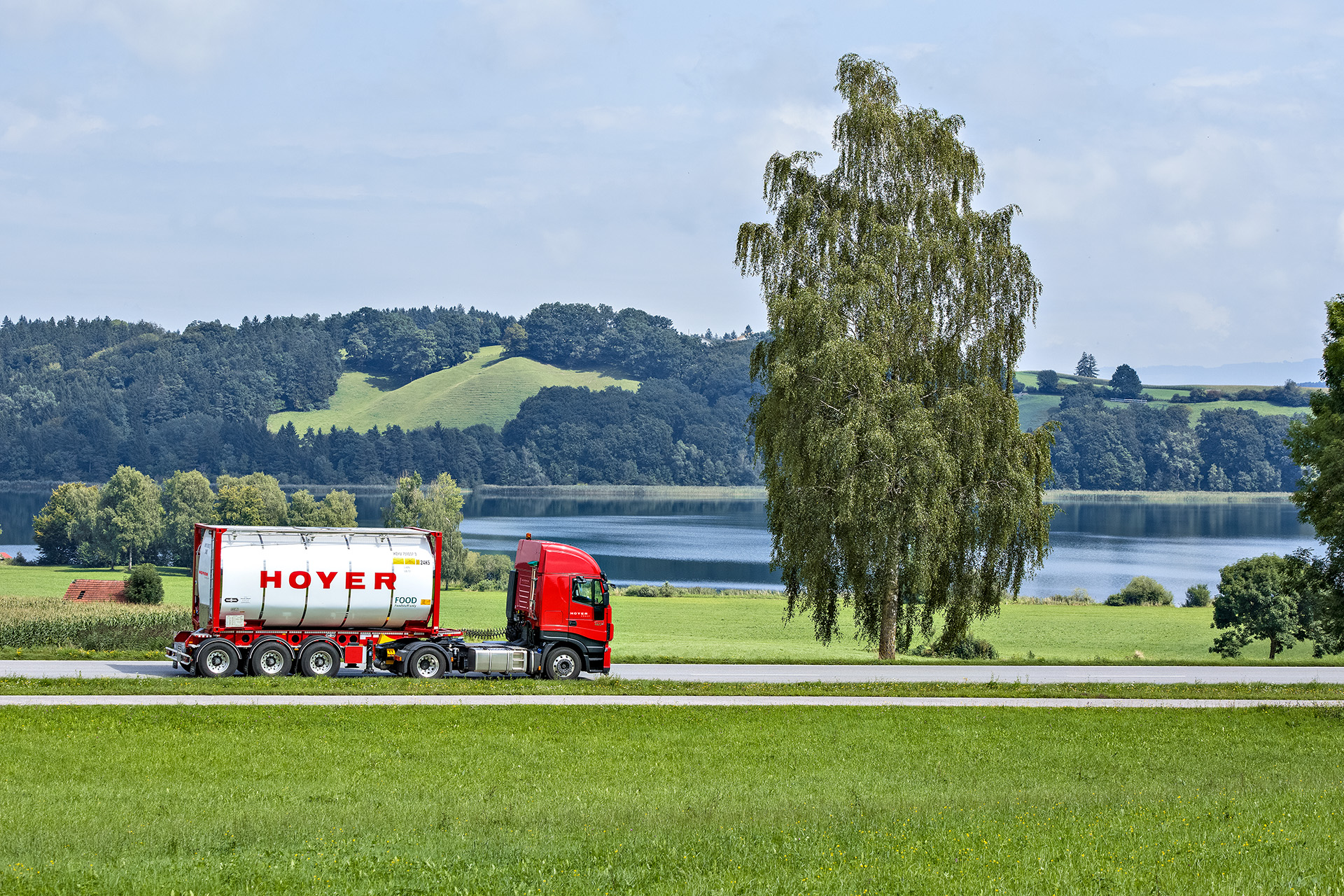 In the foodstuffs sector, HOYER is a specialist for demanding transport operations overseas. Thanks to our tailor-made logistics solutions, we have a strong name in the industry. We have one of the world's largest and most modern container fleets for the transport of foodstuffs. In addition, we offer high-quality flexitank transport logistics for medium quantities, which protects sensitive products from oxidation by means of a safe vacuum and a protective EVOH barrier. Our Intermediate Bulk Containers (IBCs) made of stainless steel are the perfect containers for small product quantities.
With many decades of experience in transporting and handling food products and their transport-specific requirements, we represent quality, safety and hygiene in foodstuffs logistics. Depending on the product's requirement, heating and cooling systems for transport movements are available to our customers. We are ISO-22000 certified, and offer certified kosher transport facilities.
more about Smart Logistics
more about our equipment
more about our IBC logistics
more about flexitank logistics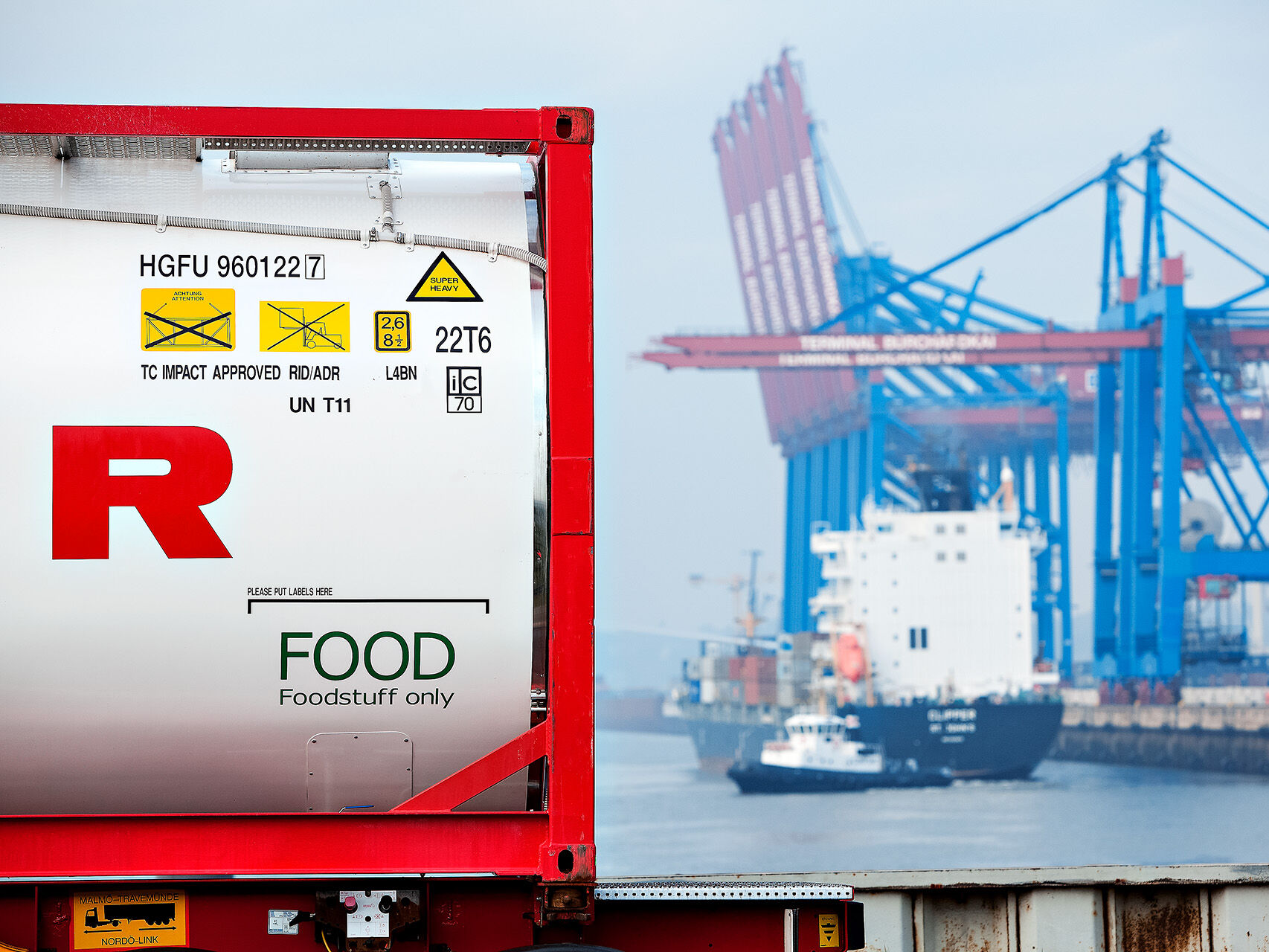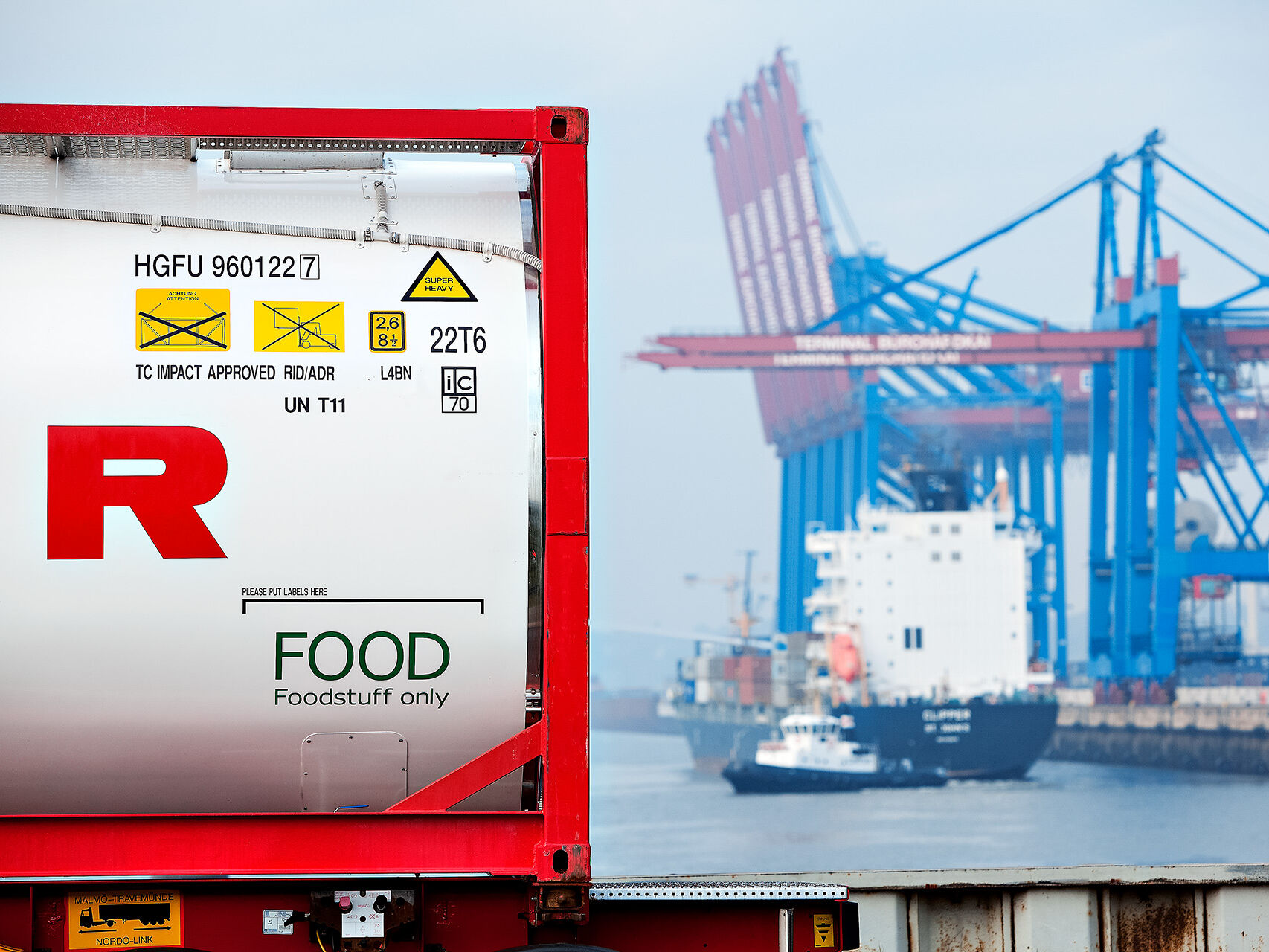 Highest quality standards: ISO tanks and flexitanks for the transport of foodstuffs
We guarantee our customers reliable and safe transport solutions for liquid goods of all kinds. We are a trustworthy partner, especially in the area of food transport.
In doing so, we rely on the highest quality and safety standards. Our ISO tank containers are specially designed for the transport of foodstuffs and meet all legal regulations and requirements. Thanks to our worldwide network and our available services such as cleaning, workshops and depots, we can offer our customers a full-service package. This means that we are always able to respond flexibly to individual customer requirements.
We offer you full-service solutions from a single source, from the delivery, planning and implementation of transport logistics to the professional disposal of the flexitank. With our flexitank logistics know-how, we offer you a customised logistics solution with global availability that is also suitable for small and medium quantities of non-dangerous chemical products and foodstuffs such as juices or wines.
Foodstuffs (kosher & halal certified): Wine, juice concentrates, edible oils, liquid sugar, beverages and much more.

Also ideal for long-distance transport: The EVOH barrier protects your sensitive liquid goods from oxidation.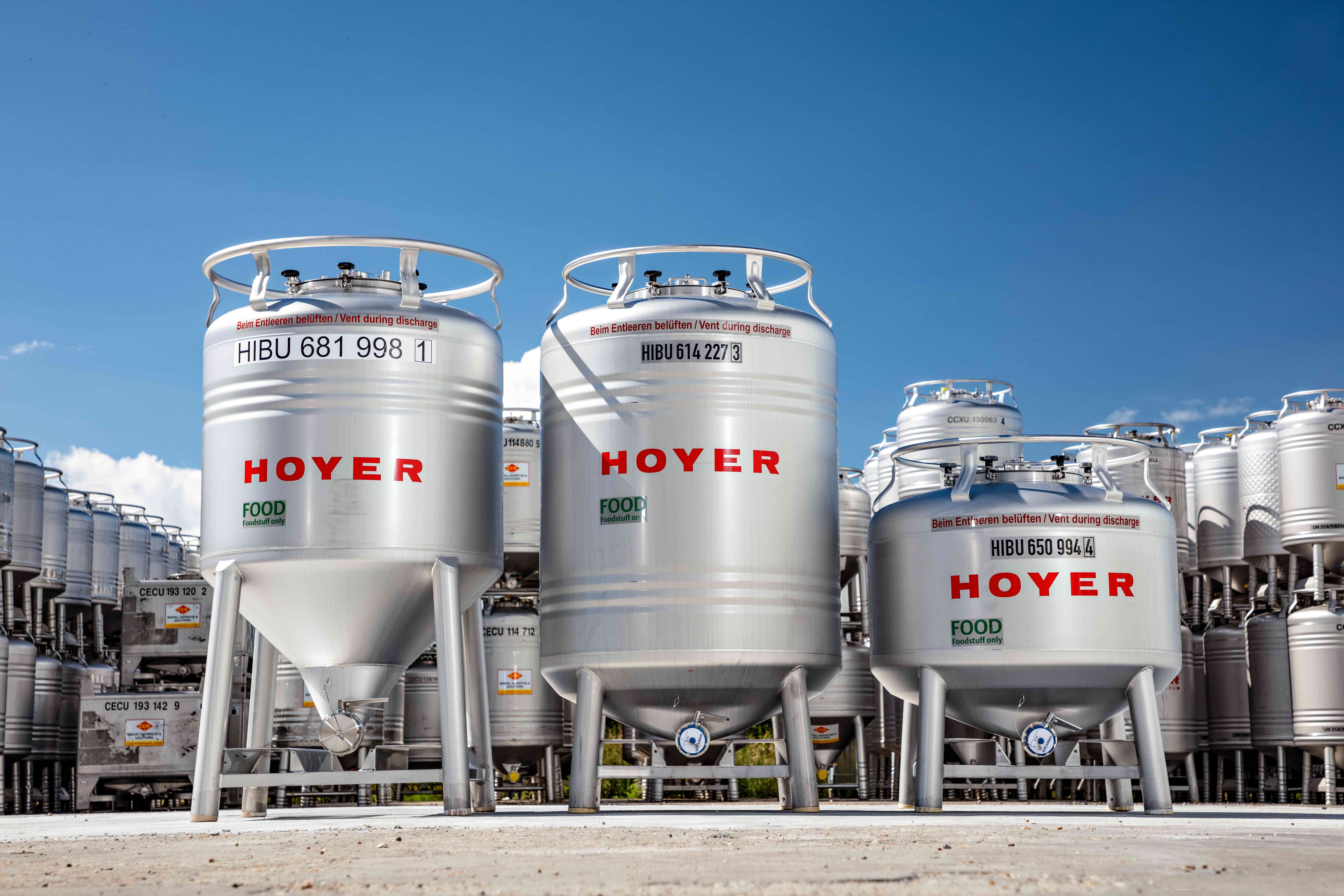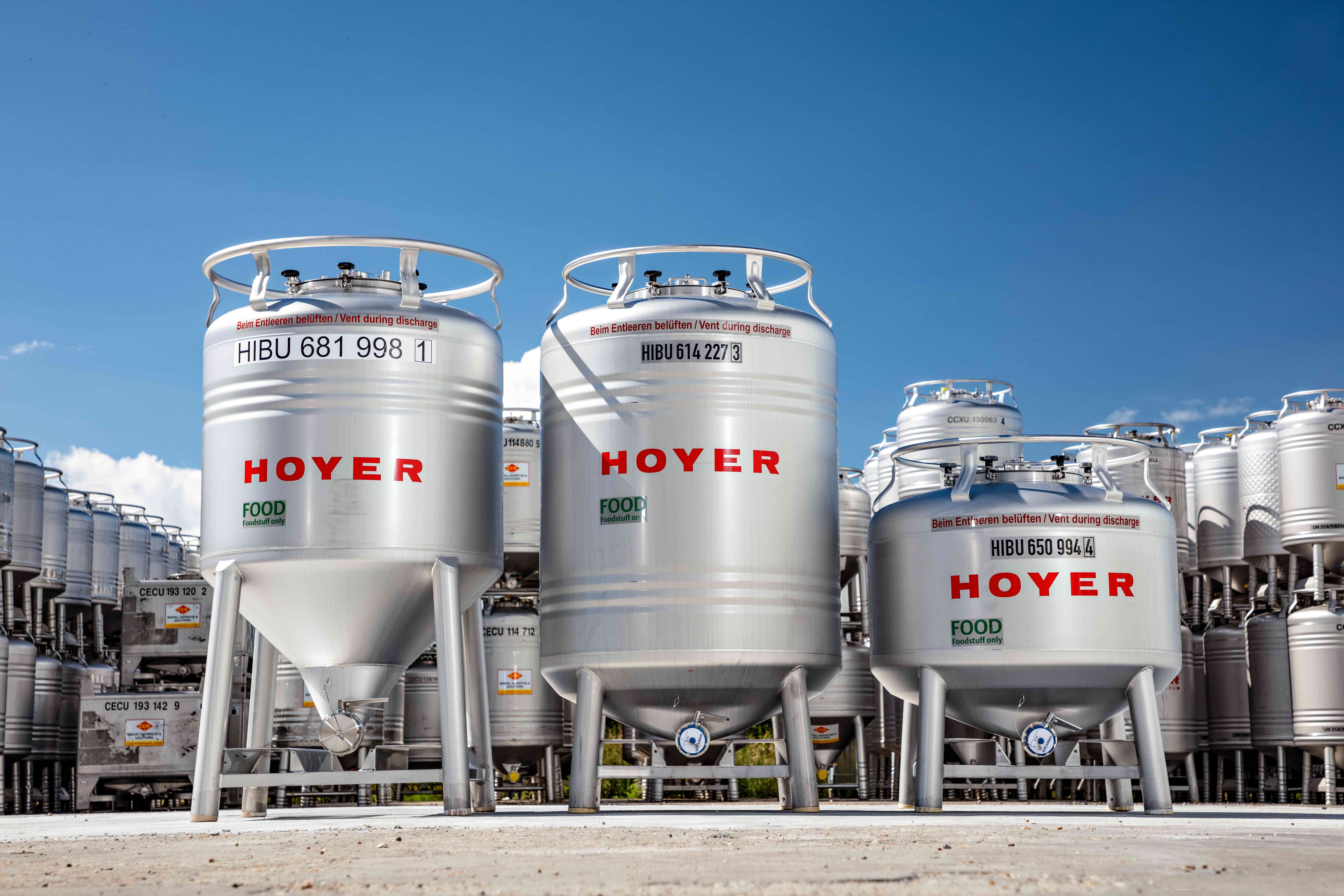 Food in our stainless steel IBCs
For product volumes of 500 to 1,100 litres, our Intermediate Bulk Containers (IBCs) are ideal. We transport edible oils and fats, edible alcohols, food additives, chocolates, dairy products, sauces and marinades, spices and fruit concentrates and many other products in our stainless steel IBCs.
We offer an all-round package from rental to transport and cleaning. Among other containers, our fleet includes aseptic IBCs, which are designed for low-germ transport and storage. With an angle of inclination of 45°, they are ideal for highly viscous products, such as dairy products. We are pioneers in electrically heated IBCs, which can be heated up to 130°C and are particularly suitable for products such as chocolate. In addition, we also offer the rental of compatible agitator, which prevent sedimentation of products and ensures an even temperature in the IBC.
Comprehensive service portfolio
Transport
We bring your foodstuffs to their destination worldwide with the ideal mode of transport and in the best quality: Whether by road, rail or overseas: We find the right solution and the optimal transport container for your liquid foodstuff product. With the help of sensors and smart technology on the tank containers, we ensure maximum safety and product quality. Thanks to the integrated Heating Cooling Terminal (HCT), the temperature can be permanently monitored and controlled. Our team of experts guarantees the smooth handling of the flow of goods before and after transport – from the provision of the appropriate equipment to cleaning.
Worldwide execution

Attractive freight rates

Reverse logistics / recycling

Reliable handling
Rental
Thanks to our fleet size and our global network, customers all over the world benefit from our proven quality. We will find the optimal container for you:
Stainless steel IBCs (up to 1,000 litres) and tank containers are available in various sizes and specifications for the transport and handling of liquid goods. From standard IBCs to aseptic IBCs and electrically heatable IBCs, various stainless steel containers are available with or without agitators. We offer a range of rental options on a short-term or long-term basis, with or without a contractual term commitment. Our IBCs can be rented flexibly for several months or years on an individual basis. Feel free to contact us if you would like to find out more.
Fleet management
We determine the demand and take over the container control and monitoring, as well as the technical management. With specially-designed IT systems, we also transparently map the container stocks and flows of goods within the supply chain across companies. In this way, we not only create transparency, but also support you in breaking new ground and integrating optimised logistics solutions into your business. Our services include:
Optimisation of standing times

Overview of tank container and IBC locations

Intelligently networked tank containers

Optimisation of fleet size

Increasing flexibility
Comprehensive service portfolio
Our services include the maintenance and repair of tank containers and IBCs. We are also a one-stop shop for safety and periodic inspections. We even carry out modifications to special equipment in our workshops.
We have our own flexitank production. From assembly to loading and unloading and from transport to recycling, we offer a comprehensive service portfolio.
SQAS-audited cleaning facilities all over the world and excellently trained employees ensure high hygiene standards and are a guarantee for clean containers. Like all services, we offer cleaning for both our own and our customers' tank containers and IBCs.
In our affiliated depots, we take care of the storage of loaded and empty containers before or after cleaning, repair and maintenance.
Our services include:
Heating or cooling of containers

Repairs and modifications

Depot storage of filled and emptied containers

Product-specific cleaning including certificates (aseptic, kosher and halal)

Adherence to uniform standards of cleaning processes

Environmentally correct disposal of residual products
OUR ATTESTATIONS AND CERTIFICATES
On request, we can also provide you with certificates and attestations for the transport of foodstuffs in IBCs, such as a declaration of conformity for each type approval.