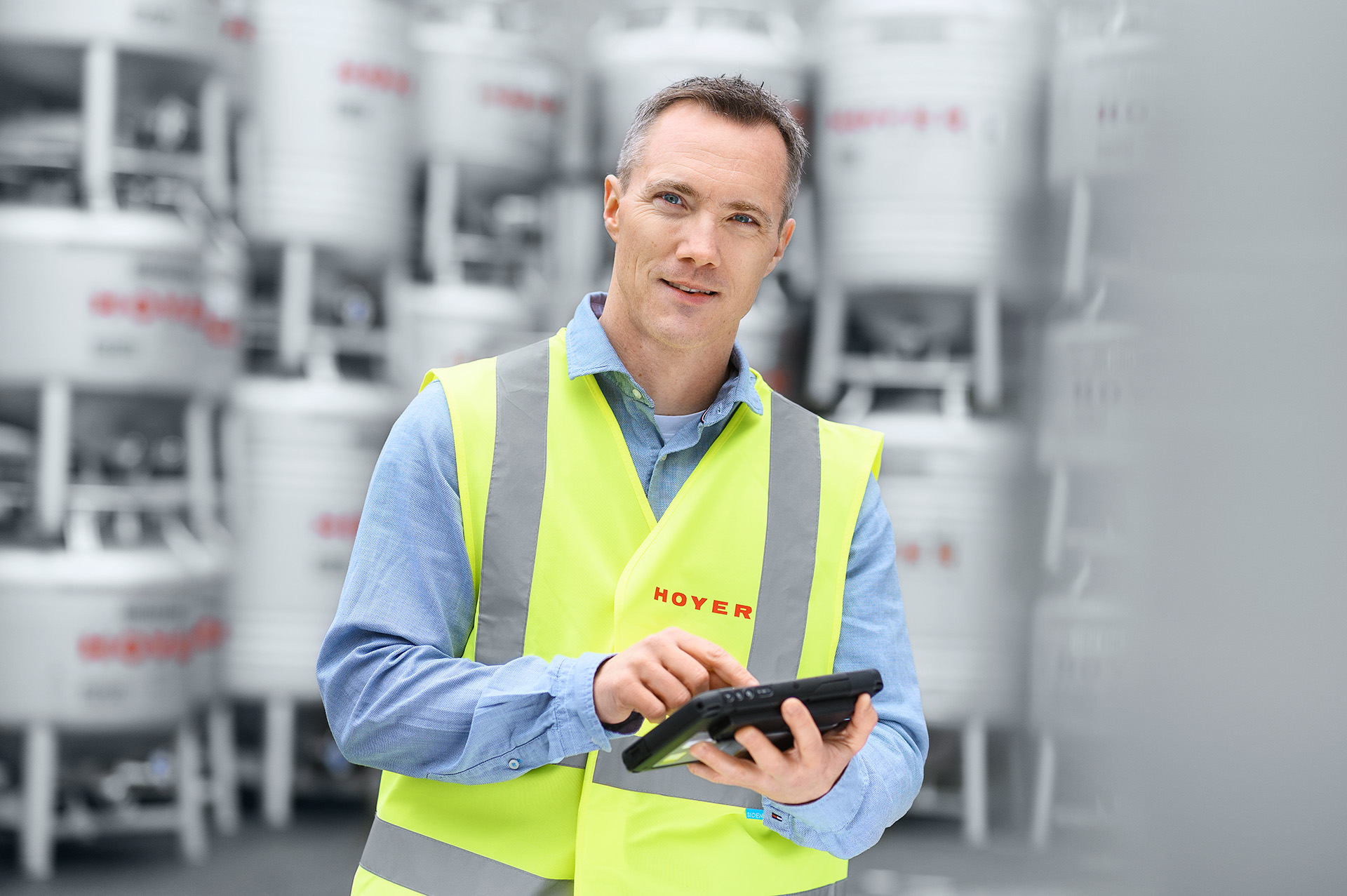 Intermediate Bulk Containers
With our fleet of more than 52,000 Intermediate Bulk Containers (IBCs), HOYER offers the chemicals, foodstuffs and cosmetics industries an ideal alternative to drums and tank containers to transport their liquid products. These small containers are available in various stainless steel grades, designs and sizes, some with agitators and hazardous goods approval. We use IBCs both for transport and storage, and we do so worldwide.
We strive for even greater sustainability through our specialisation on these robust stainless steel containers. Intermediate bulk containers are also reusable, and are cleaned in compliance with the highest sustainability standards. The burden on the environment is also relieved through the smaller residual amounts arising during disposal. Last but not least, our careful logistics planning through efficient transport routes makes an important contribution to environmental conservation.
LITTLE ALLROUNDERS
Our IBC fleet consists of standardised IBC types as well as a large number of individual small containers with the necessary accessories. IBCs can contain a volume between 500 litres and 1,100 litres: they are an ideal alternative to drums and tank containers to transport and store liquid products in the chemicals, foodstuffs and cosmetics industries. There is a particular demand among our customers for heatable IBCs for the food industry, cylindrical containers for the paint and coatings industry, and pressure vessels – so-called Mini Pressure Tanks (MPTs) for special chemicals.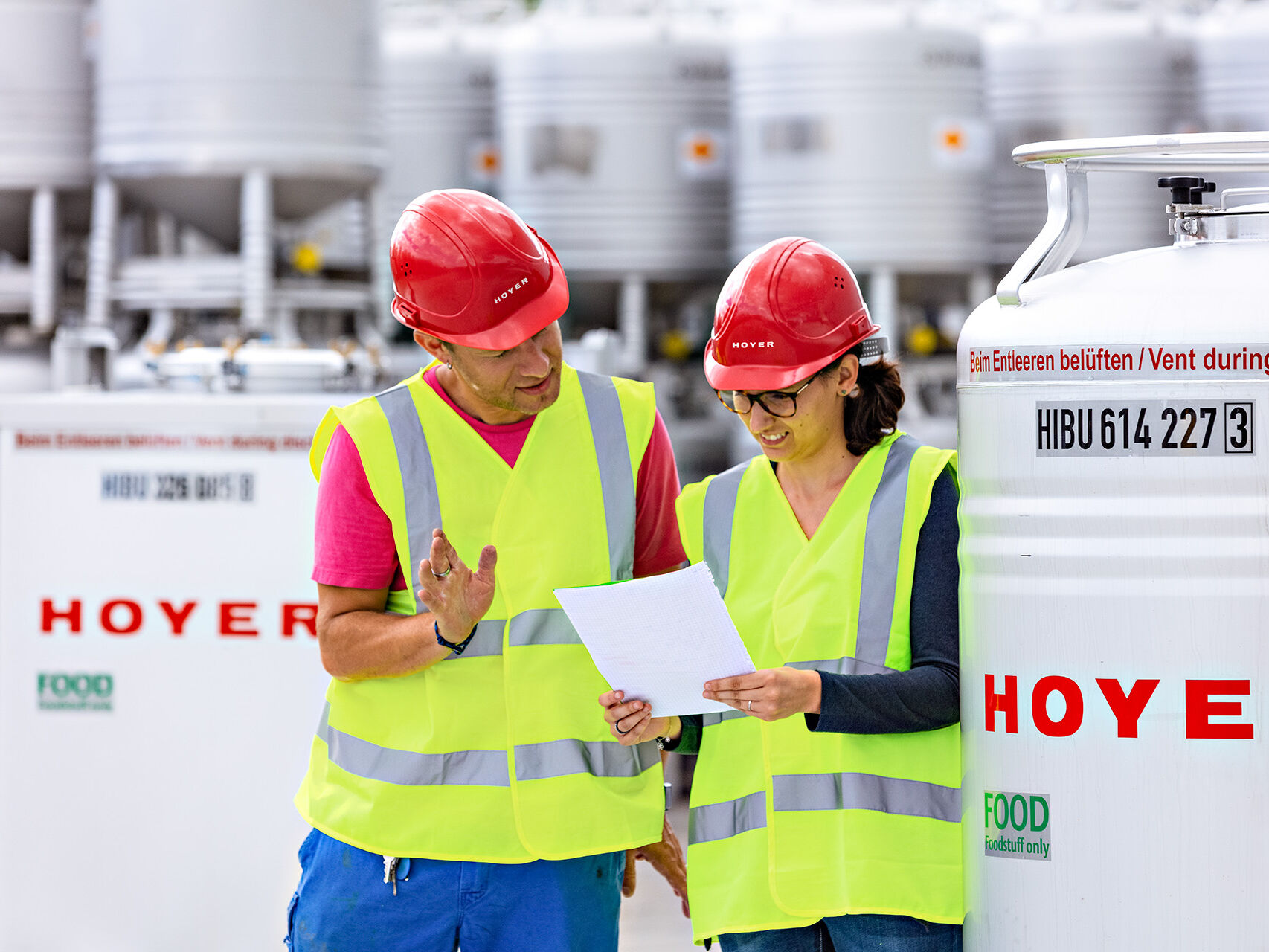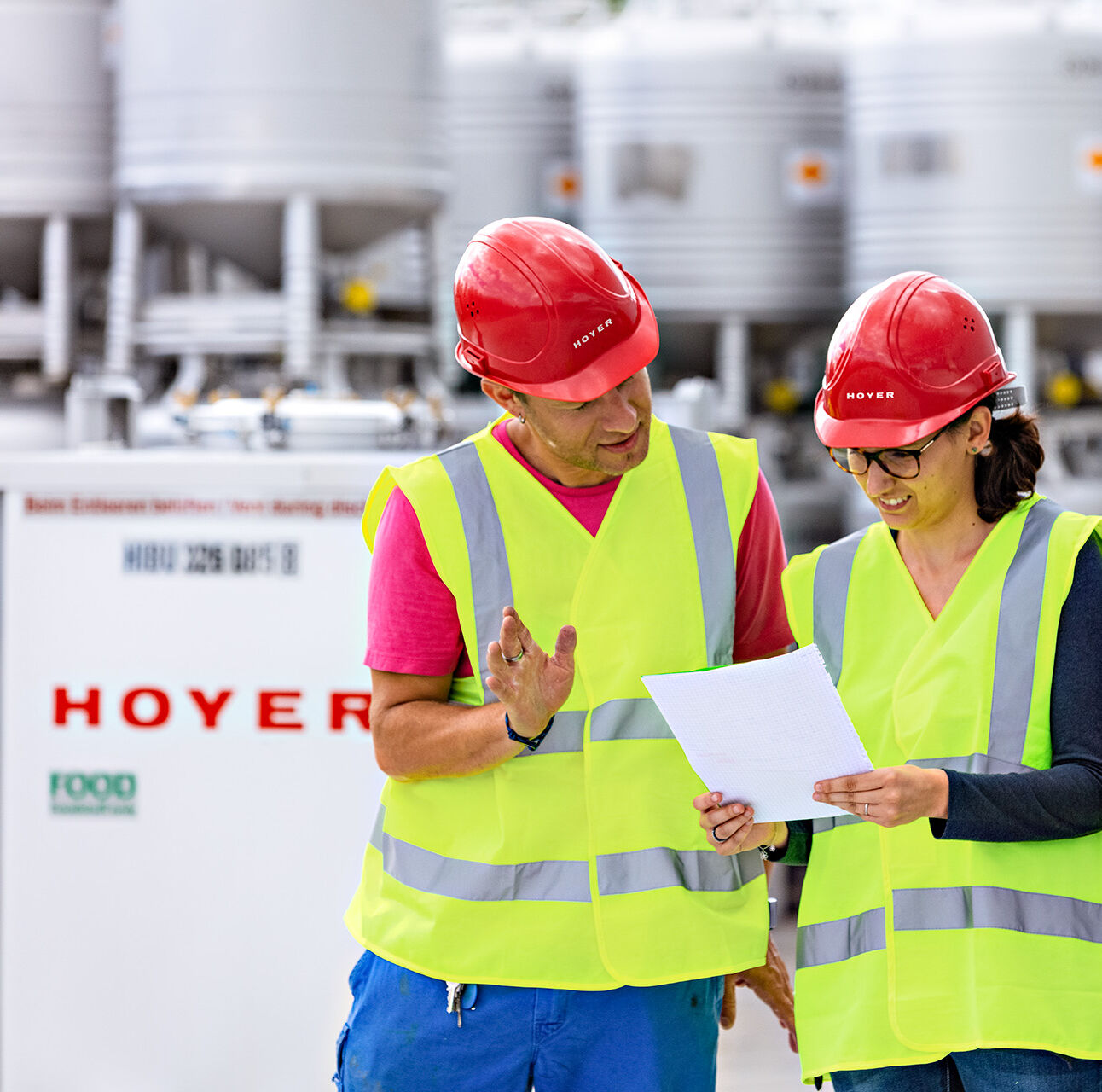 SUPPORTING SERVICES
Our range of services relating to the use of intermediate bulk containers includes fleet management, leasing, transport and cleaning, together with maintenance and repair. We provide these services individually and in combination. We will gladly advise you, and together we will assemble your individual package of services.
Customers appreciate the advantages of our global network, our comprehensive communications systems and our high-efficiency infrastructure. For example, HOYER is able to offer, worldwide, a sterile, germ-free container, together with kosher and halal cleaning. There is a demand for these services, especially in the food sector.
FLEET MANAGEMENT
We undertake both operational and strategic container management for you: from inventory management and needs analysis to container control and monitoring as well as technical management. Using IT systems specifically designed for the purpose, we map container inventories and goods flows within the delivery chain, even across several companies. That enables us not only to create transparency, but also to support you in taking new routes and when integrating optimised logistics solutions into your business. Our services include:
Shortening downtimes

An overview of IBC locations

Fleet size optimisation

Increasing flexibility
LEASING
With the size of our fleet and our global network, customers everywhere in the world profit from our well-known quality. We do a lot for quality: We want not only to fulfil our customers' varied and growing needs to transport and store their goods, but also to exceed them. We therefore constantly invest in the further technical development of our IBC fleet. Our services include:
Leasing various types of IBC and pressure tanks

A flexible term of lease – from a few days to several years

Containers with dangerous goods approval are available

Volumes from 500 to 1,100 litres

Different grades of stainless steel

Agitators as additional equipment
TRANSPORT
Careful product handling is the key factor when transporting and handling sensitive, high-quality products in intermediate bulk containers. HOYER maintains high standards, and utilises its know-how acquired over many decades in handling a very wide variety of liquid goods. As a customer, you can devote yourself to your core business, while we take care of the smooth transport. Our aim: optimum, needs-orientated control of container flows for you – entirely consistent with efficient logistics. Our services include:
Worldwide implementation

Competitive freight rates

Reverse logistics

Reliable processing
CLEANING
IBCs are cleaned in a product-specific way. SQAS-audited cleaning plants throughout the whole world, and exceptionally well-trained staff, safeguard high standards of hygiene and guarantee clean containers. Like all services, we offer cleaning both for our own IBCs and for customers' own IBCs. Our services include:
Product-specific cleaning, including certificates

Uniform cleaning process standards

Tests to determine sterility on request

Environmentally correct disposal of product residues
MAINTENANCE AND REPAIR
We rely on a highly efficient, worldwide services network for our provision of technical services. All depots work in accordance with the rules and regulations of the IBC approval authorities, and implement our high-quality standards. You can count on that. Our services include:
Legally required repeat examinations

Testing electrical elements to prevent accidents

Technical support at the depots and on site

Maintenance and modification of IBCs